Introduction
LIGHT POLE WELDING MACHINE:IT IS USED TO CLOSE AND WELDING LIGHT POLE AUTOMATICALLY.
1.Instroduce of our light pole welding machine:
Main Features:
1.Light pole welding machine is specialized to used to close and weld the light pole column with conice or octagonal shapes.
2.The machine can do close and weld automatically,it saves labor cost,improving speed and quality.
3.Our pole welding machine can have both Submerge welding and CO2 welding functions.
4.The machine includes machine body,hydraulic system,welding system etc.
5.Hydraulic system used to provide power to close pole,the closing pressure is adjustable easily by manual.
6.Welding system includes welding machine, welding wire feeding unit, welding flux recircle system, it can do welding pole automatically after poles are closed.
Main parts: Main configues:
1.Working table with rack 1.Main electric parts:Schneider
2.Dolly for clamping and pull pole 2.Main bearing:NSK
3.8 pairs pressing wheels 3.Hydraulic system:Victory
4.Arc welding and submerge welding unit 4.Welding machine:KN630
5.Welding flux recircle system 5.Inverter:Schneider
6.Back side supporting unit 6.Welding flux system:liantong
2.Reference picture of light pole welding machine: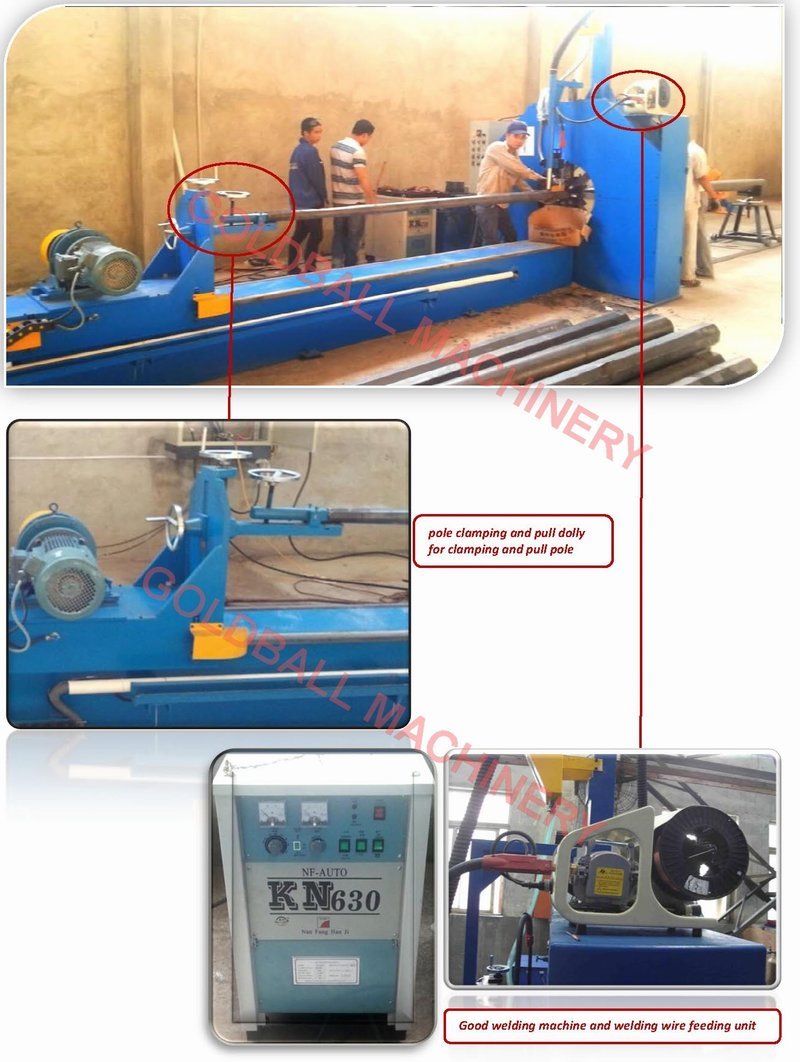 3. Light pole welding machine using instructions:
4.PARAMETERS OF LIGHT POLE WELDING MACHINE:
5.REFERENCE VIDEOS OF LIGHT POLE WELDING MACHINE:
More Products