Introduction
CNC V GROOVING MACHINE/V GROOVING MACHINE OR V CUTTING MACHINE-VKB SERIES:IT IS USED TO CUT V SLOTS ON METAL SHEET PLATES.
1.Description of cnc V grooving machine or CNC v cutting machine:
This machine is used to make V cutting or slots on metal sheet like mild steel,stainles steel and other metal sheet plate.After V grooving,if we do bending of this metal sheet,the bending angle will b sharp and small bending radius.It will show good looking.Right now the machine is widely used in Elevator,decoration jobs etc.
The machine consists of body frame,knife holder,plate clamping and feeding system.The horizontal movement and vertical movement of knife holder are controlled by controller,it decides grooving length and grooving depth.The plate clamping and feeding system is controlled by cnc controller also which decides the position where you want to do grooving on the plate.
The machine is total controlled by CNC controller and after programing,it can do the grooving and make slots on metal sheet plate automatically.
2.Reference pictures: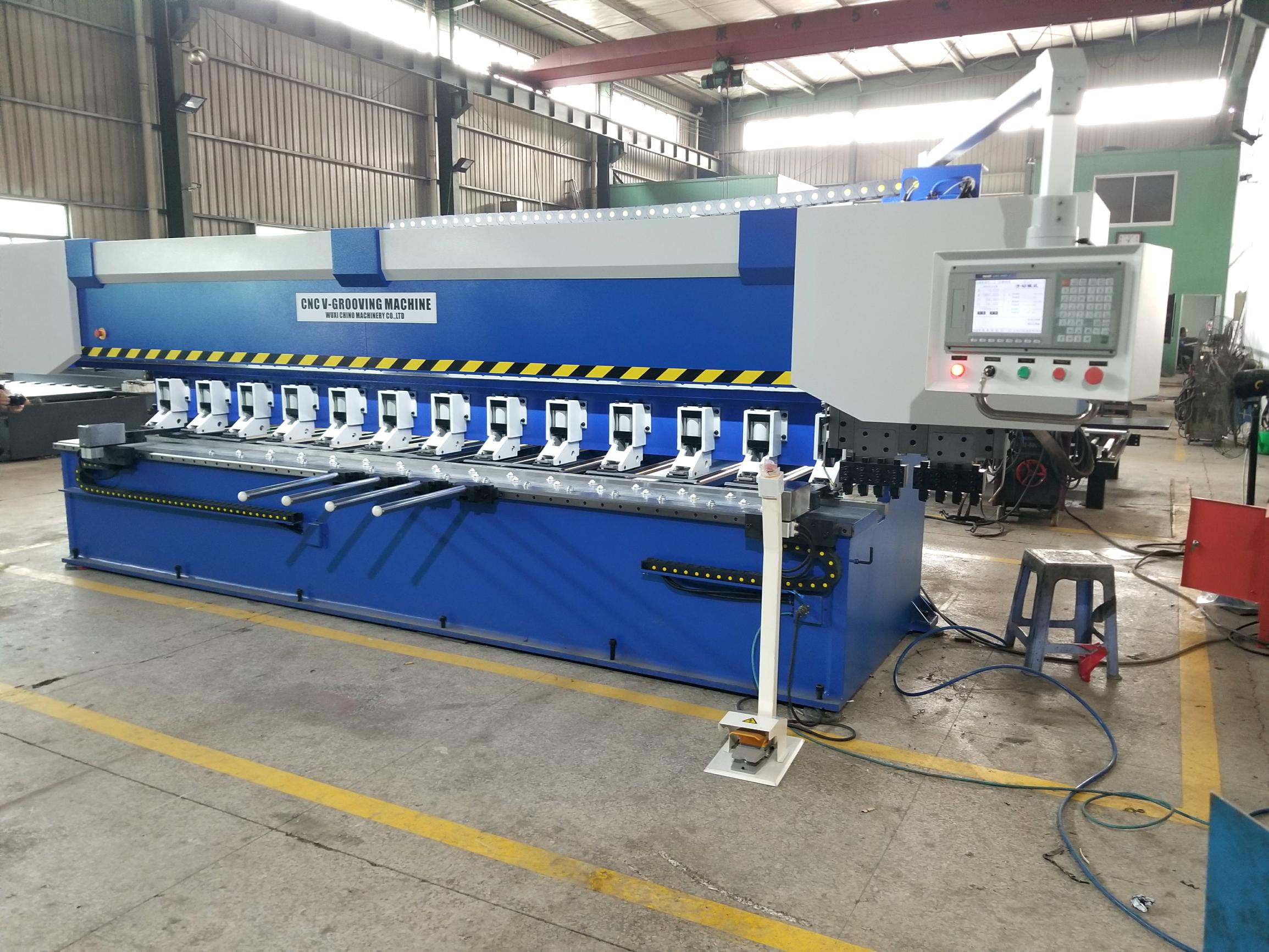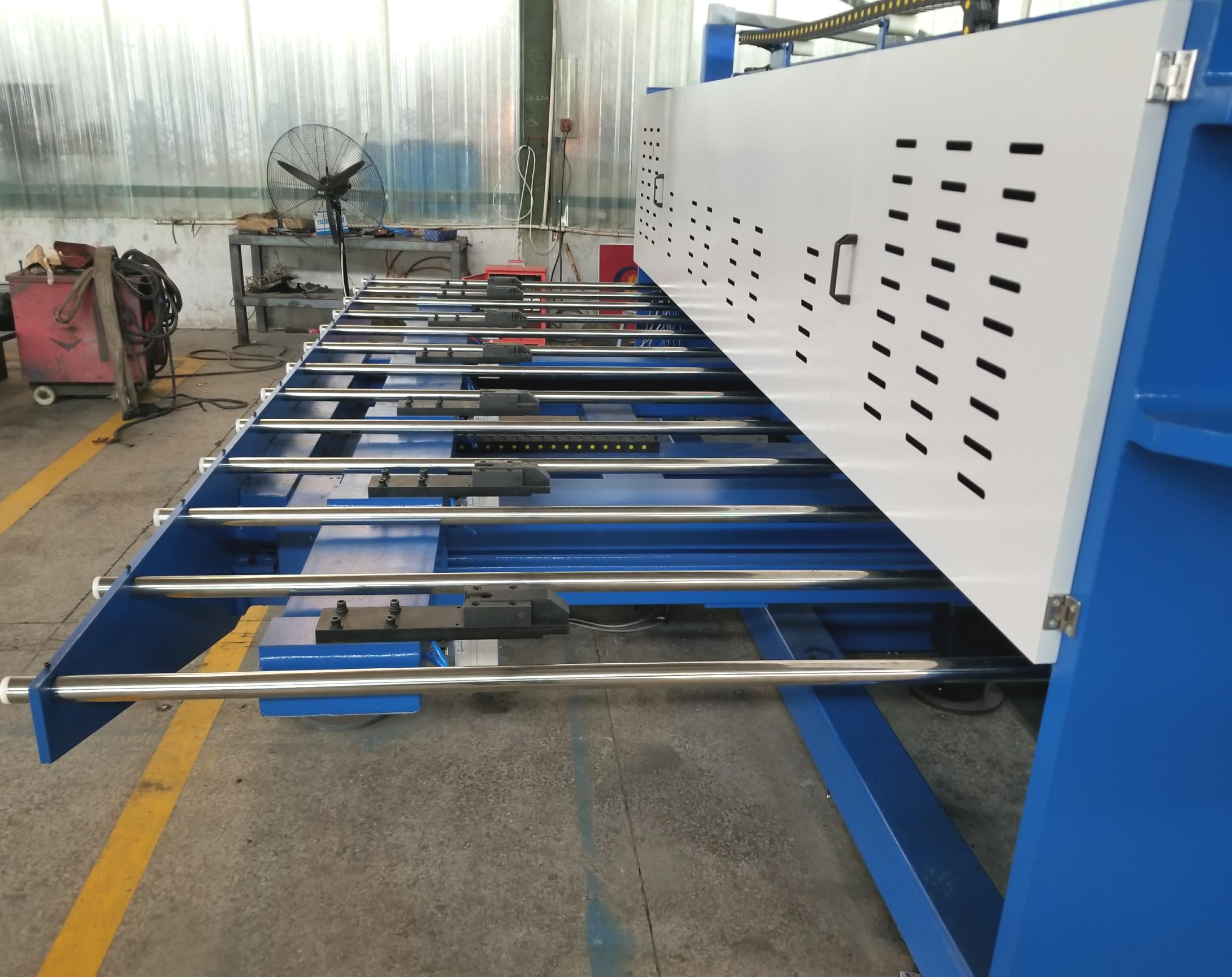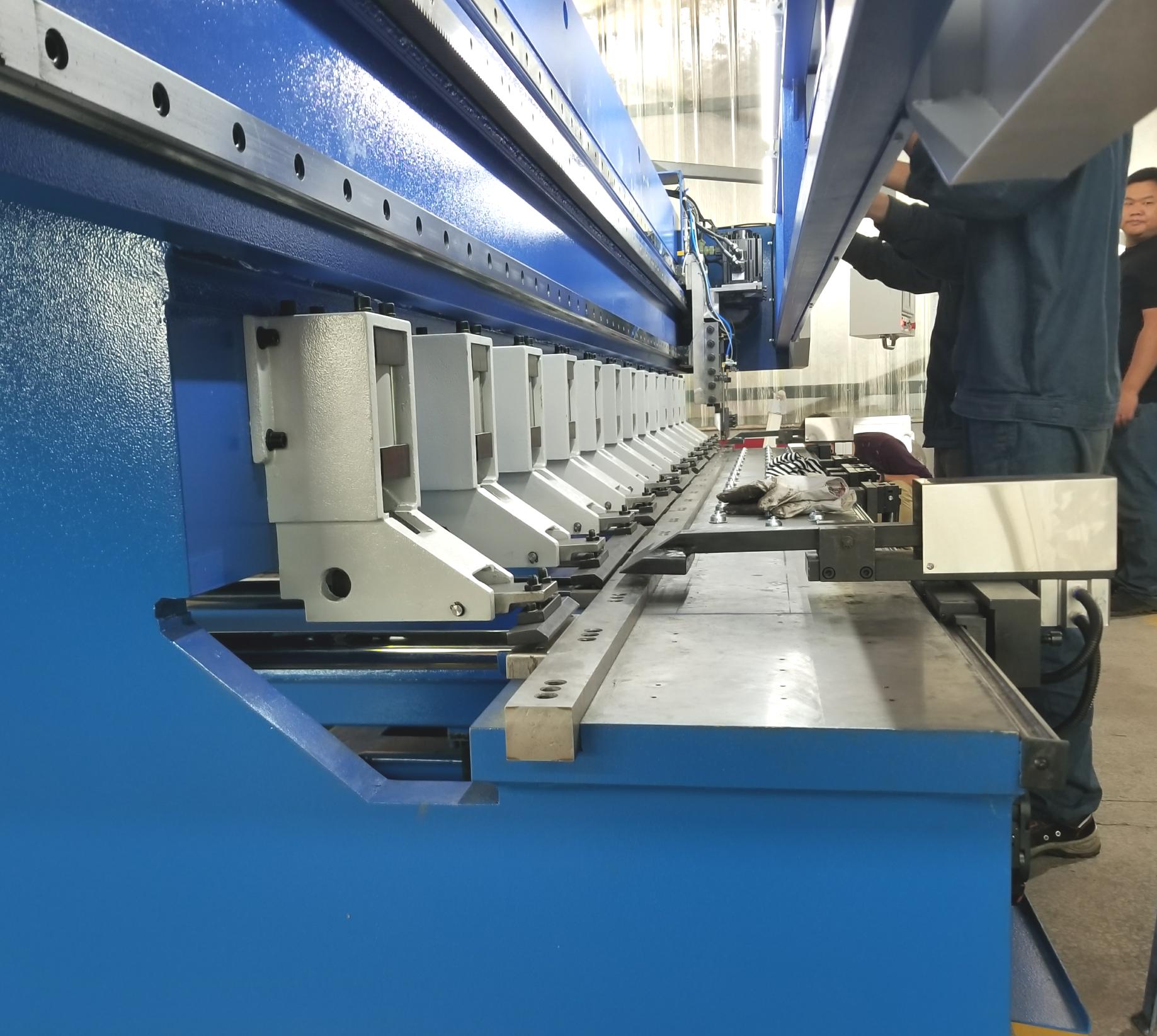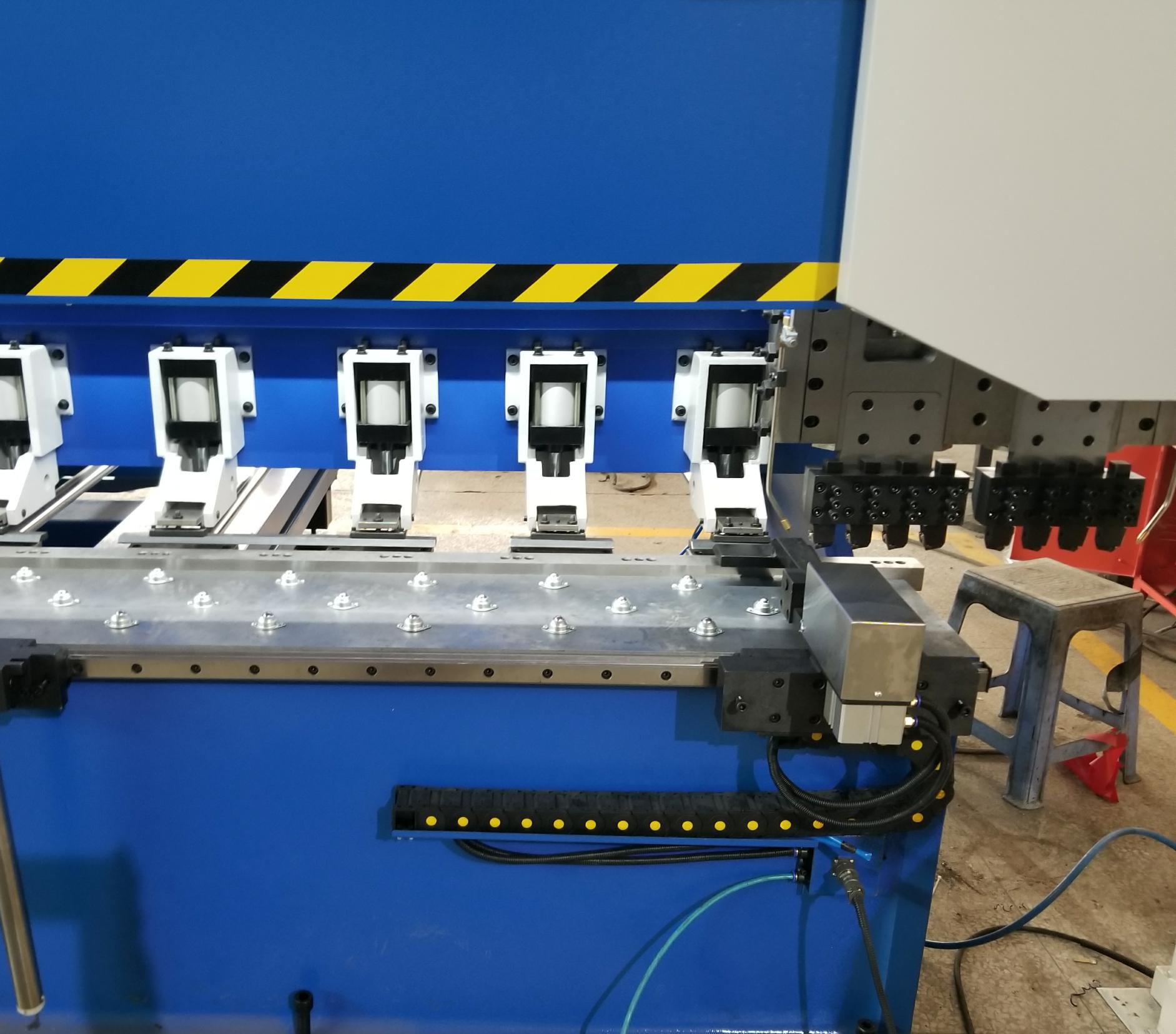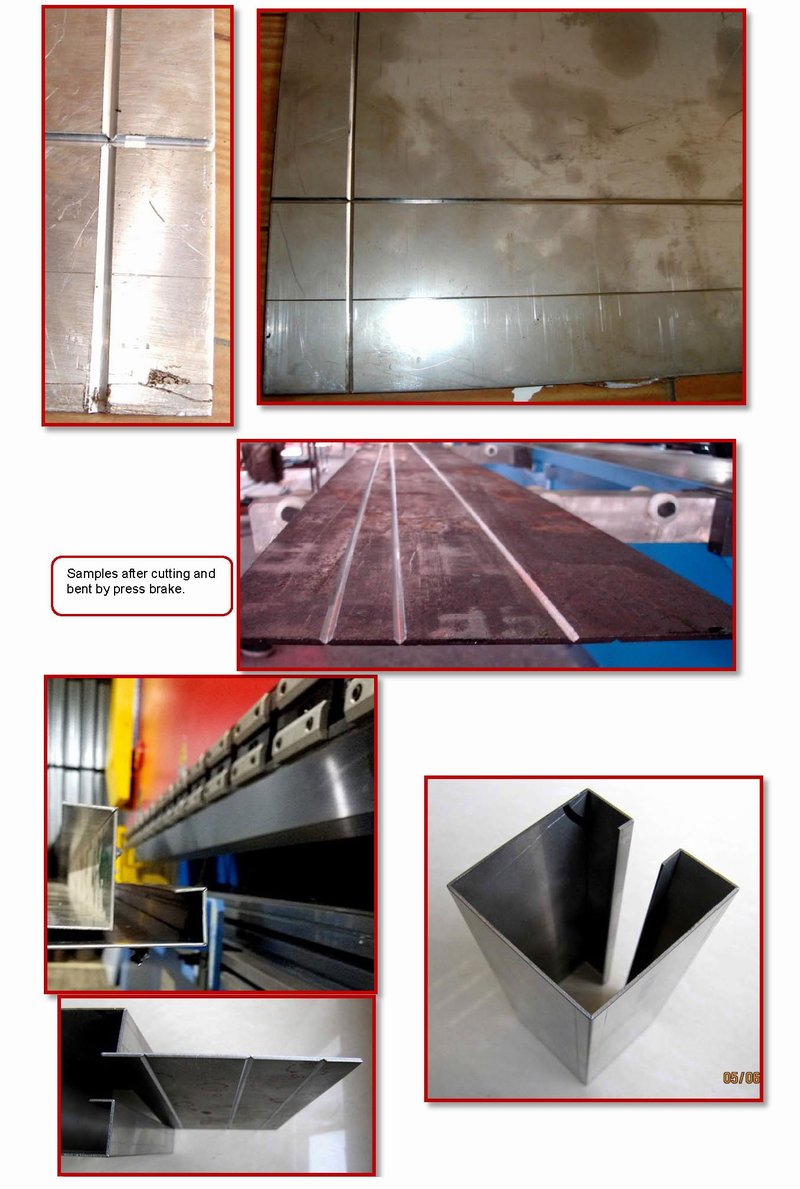 3.PARAMETERS OF CNC V GROOVING MACHINE/CNC V CUTTING MACHINE
ITEM

CNC V GROOVING MACHINE/V CUTTING MACHINE:VKB SERIES

MAX. WORKABLE WIDTH OF PLATE

1250mm

1250mm

1250mm

MAX. WORKABLE LENGTH OF PLATE

4000mm

5000mm

6000mm

MAX. WORKABLE THICKNESS OF PLATE

0.40-4.00mm

0.40-4.00mm

0.40-4.00mm

MIN.GAP BETWEEN SLOTS

8mm

8mm

8mm

X-AXIS WORKING SPEED

70m/min

70m/min

70m/min

X-AXIS RETURNING SPEED

85m/min

85m/min

85m/min

Y-AXIS MOVING SPEED

20m/min

20m/min

20m/min

Y.Z-AXIS REPEAT ACCURACY

±0.01mm

±0.01mm

±0.01mm

POWER OF X AXIS MOTOR

4.5KW

4.5KW

4.5KW

POWER OF Y.Z AXIS MOTOR

1KW

1KW

1KW

OVERALL SIZES (LxWxH)

5740x2350x2110mm

6740x2350x2110mm

7740x2350x2110mm

MACHINE WEIGHT

10.5T

12T

18T
4.PARTS LISTS OF CNC V GROOVING MACHINE/CNC V CUTTING MACHINE:
| | | |
| --- | --- | --- |
| NO. | PARTS | BRAND |
| 1 | CNC CONTROLLER | TAIWAN HINSTUN |
| 2 | PNEUMATIC CONTROL | TAIWAN |
| 3 | SERVO MOTOR | TAIWAN,DELTA |
| 4 | LIMIT SWITCH | JAPAN,OMRON |
| 5 | MAIN MOTOR | TAIWAN,DELTA |
| 6 | ELECTRIC PARTS | FRANCE,SCHNEIDER |
| 7 | KNIFE | SOUTH KOREA |
| 8 | LINEAR GUIDER AND BALL SCREW | TAIWAN,HINWS |
| 9 | CABLE | GERMAN |
| 10 | LUBRICATING SYSTEM | BERCHI |
5.Reference video:
More Products